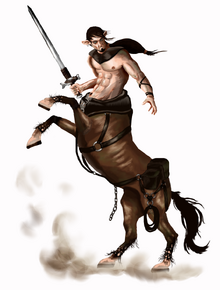 Broadhoof was a centaur who lived at Fablehaven.
Grip of the Shadow Plague
Broadhoof has problems with Seth insulting him, and Seth promises Broadhoof a duel. Patton Burgess replaces Seth and defeats Broadhoof.
Broadhoof later dies during the battle in Kurisock's tar pit: when the dark hamadryad Ephira attacked him with her dark garments, Kendra was sitting on his back, holding the talisman of light the Fairy Queen had given her. Torn between light and dark, the strain was too much for Broadhoof, and he was killed.
Physical appearance and personality
Like most other centaurs, Broadhoof was snobbish and thought himself above other creatures. Broadhoof's horse-half was brown. He wielded a sword.
Ad blocker interference detected!
Wikia is a free-to-use site that makes money from advertising. We have a modified experience for viewers using ad blockers

Wikia is not accessible if you've made further modifications. Remove the custom ad blocker rule(s) and the page will load as expected.